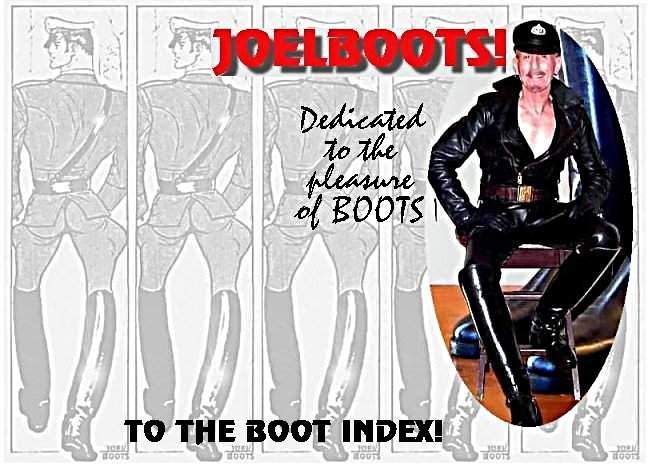 mailto: joelboots@hotmail.com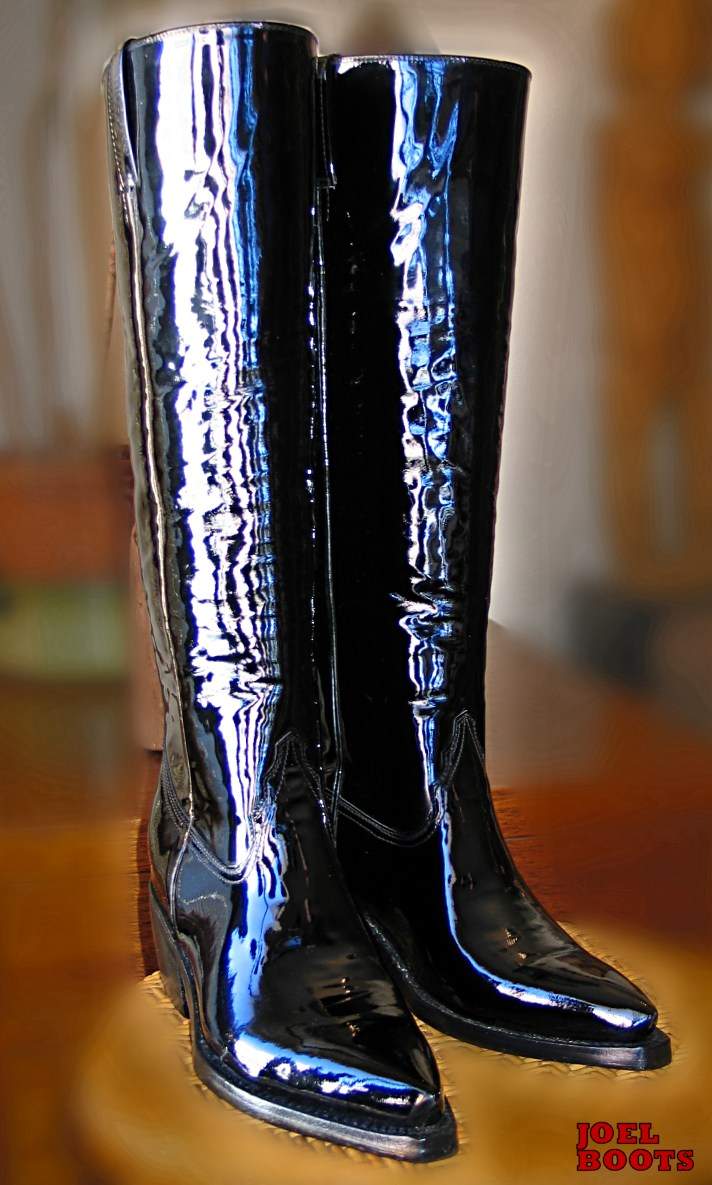 January 2004- Patent Leather Cowboys!
August 2002- The Queen's Household Cavalry
June 2002- Another Several Dozen Aggies, including Historical!
January 2002- OK, back from Bangkok with several new custom designs, check 'em out!
October 31- More and More Aggies.. Gig 'em!!
July 12- Super High Zorros!!- well, why not??
Winter 2001- RETRO 3-Buckle Cavalry Boots
November 9- Photos of EXTRA high BOOTED studs..
October 25- Added a few more studs with EXTRA high BOOTS- go for it!
October 12- Check out these hot guys with EXTRA high EXTRA shiny EXTRA everything BOOOTS!!
August 4- A new modified TOF wallpaper- enjoy!
July 12- Added some new booted studs to DREAMS & THINGS- check 'em out!
June 26- Lots of New Stuff! Check out all the goodies just worked up in ''Summer 2000- New Boot Designs'', as well as a big new group of hot pics in ''Texas A&M Aggies'' and additions to ''Joel's Personal Leather Gear'' & ''Dreams & Things''..
April 4- AGGIE BOOTS I had made in Bangkok!
March 25- BIG BRUTE BOOTS.. Harness-strapped KILLERS!!
Feb 21- Yet another installment in our continuing saga of World War II and the heroic men who fought for truth, freedom and the right to wear sexy BOOTS..
TO THE COMIC BOOK HEROES!
Feb 5- New background inspired by Tom's Men- Enjoy!
Feb 1- Added more BOOTED War Heroes!
Jan 25- HAWK-A-A-A! A celebration of the great comic book heroes of World War II, and the BOOTS & breeches they wore to vanquish axis evil!! We start with six pics and will be adding more over the next few weeks.
Jan 11, 2000- just back from HOT and sunny Bangkok to cool, rainy (BOOT weather!) San Francisco. All custom BOOTS beautifully built and will be contacting everyone with details next couple of days as jetlag wears off.
Dec 9- HAPPY HOLIDAYS TO ALL! I'm on my way to Bangkok for a month in Thailand. Will be supervising construction of fabulous new BOOTS for the lucky BOOTmen who placed their orders on time. My apologies to the others and hope to accept your requests before my next trip.
Dec 3- New AGGIE section: AGGIE CASUAL!
Nov 18- Texas Aggie Bonfire Memorial Page
Oct 21- Just got a Kodak DC280 high-res digital camera, results (as they say) are to die for! So, as promised and well worth waiting for, POLO & POLO GUARDSMAN BOOTS!
Oct. 5- New AGGIE section: COMPANY PICTURES
Sept. 28- New AGGIE sections: TRY 'EM ON!, POLISH 'EM UP!
Sept. 24- New high heel BOOTS.. check 'em out!
Sept. 10- Yet more AGGIES!, now in sections: AGGIE BOOTS, AGGIE BUDDIES, AGGIE BAND!
Sept. 6- NEW! FIRST TROOP PHILADELPHIA CITY CAVALRY.
Sept. 1- Ten Hut! Yet more breeched & BOOTED AGGIES.. Never enough!!
August 24- OK! Additions to TEXAS A&M AGGIES, plus two new pics in DREAMS & THINGS, including a teen heartthrob ''Twink in BOOTS''.. go for 'em!!
August 10- Yes! Added a whole new section on TEXAS A&M AGGIES with pix of BOOTED guys you haven't seen before- couples, groups, band, marching, all in knee-high mirror-polished cavalry BOOTS!!
July 17- Added three new pics to DREAMS & THINGS.. enjoy! Still haven't organized the Super High BOOT offering, or photographed the new BOOTS, but, hey, it's summer, whatthehell..
July 1- Back from Bangkok.. Wow! Where to begin.. First, the bad news- there isn't any! Now the GOOD news, yes, I found my bootmaker, and YES, for all those who asked, copies can be made of my Spanish Riding School BOOTS!! Promise I'll let you know full details soon as my head is screwed on right (jetlag and all..) In the meantime, challenged him with some really wild designs and BOY did he succeed- in near future will photo and post pics of my new 22'' POLO and 27'' POLO-GUARDSMAN, both with buckles galore and in Dehner's special high-gloss black cowhide.

May 30- Off to Bangkok for a month, back end of June. For all those who asked for copies, will try to find that great bootmaker who made my Spanish Riding School BOOTS - wish me luck!
May 17- Added custom WESCO'S (about time!)
May 3- Added mo' HiGH & SHINY, plus CAVALRY BOOTS. New section, DREAMS & THINGS..
April 26- Added Western BOOTS.. RIDE 'EM, COWBOY!
April 19- Added a few mo' good BOOTS.. VERY High & VERY Shiny!
April 12, 1999- Welcome to my brand-new, bright and shiny site dedicated to (what else)..BOOTS, inspired by such rabid BOOTophiles as Larry of HOTBOOTS, I live in heaven, that is San Francisco, and organize special interest tours to exotic locales from Thailand to Tahiti. While traveling am always on the lookout for great bootmakers and leather craftsman to work their magic. We're starting with a selection of boots, breeches, and related stuff. They lurk in my closet awaiting their moments of glory on weekends, holidays, and at street fairs. So click your (BOOTED) heels three times and

Best best,
JOELBOOTS