AGGIES!
Aggies are college students at Texas A&M University at College Station, Texas. A&M stands for Agricultural & Mechanical, the original purpose of the school when founded more than 100 years ago (hence ''Aggie'' slang for ''Agricultural''). Only seniors (''zips'') may wear the distinctive uniform of tan flared breeches and knee-high polished brown riding boots. Aggie boots are normally made-to-measure and uniquely constructed with a stiff shaft and flexible ankle. This makes them instantly comfortable and wearable all day- which the seniors do with great enthusiasm! (Well, wouldn't you???)
JUNE 2002- 70 YEARS AGGiES!

FALL 2001.. GIG 'EM!!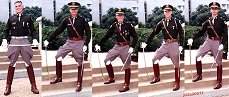 NEW PICS FOR SUMMER 2000!

AGGIE BOOTS

TRY 'EM ON!

POLISH 'EM UP!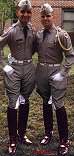 AGGIE BUDDIES

AGGIE BAND

COMPANY PICTURES

AGGIE CASUAL
AGGIE BONFIRE MEMORIAL PAGE